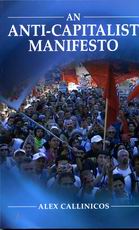 An Anti-Capitalist Manifesto

Callinicos, Alex
Publisher: Polity
Year Published: 2003
Pages: 192pp ISBN: 978-0745629049
Library of Congress Number: HB501.C233 2003 Dewey: 330.12'2--dc21
Resource Type: Book
Cx Number: CX12537
An extended argument about what the anti-capitalist movement should stand for.
Abstract:
-
Table of Contents
Preface
Introduction
An unscheduled event
The revival of social critique
Naming the movement
Another unscheduled event
Capitalism Against the Planet
So what's the problem?
Financial Follies
The perpetual motion machine
Accumulation and catastrophe
The sword of Leviathan
Summary
Varieties and Strategies
Varieties of anti-capitalism
Reform or revolution?
Summary
Imagining Other Worlds
Anti-capitalist values
A note on diversity
What's wrong with the market?
Why we need planning
A transitional programme
Summary
Afterword
Notes
Index
Subject Headings