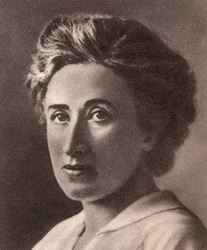 Rosa Luxemburg on the Socialist Civic Virtues
D'Arcy, Steve
http://publicautonomy.org/2014/09/09/rosa-luxemburg-on-the-socialist-civic-virtues/
Publisher: PublicAutonomy.org
Date Written: 09/09/2014
Year Published: 2014
Resource Type: Article
Cx Number: CX16769
One of Rosa Luxemburg's most striking and least well-understood contributions was to draw on the classical "republican" notion of "civic virtue," as a vital part of her analysis of working-class democracy.
Abstract:
-
Excerpt:
The essence of socialist society consists in the fact that the great laboring mass ceases to be a dominated mass, but rather, makes the entire political and economic life its own life and gives that life a conscious, free, and autonomous direction…. Only through constant, vital, reciprocal contact between the masses of the people and their organs, the workers' and soldiers' councils, can the activity of the people fill the state with a socialist spirit…. From dead machines assigned their place in production by capital, the proletarian masses must learn to transform themselves into the free and independent directors of this process. They have to acquire the feeling of responsibility proper to active members of the collectivity which alone possesses ownership of all social wealth. They have to develop industriousness without the capitalist whip, the highest productivity without slave-drivers, discipline without the yoke, order without authority. The highest idealism in the interest of the collectivity, the strictest self-discipline, the truest public spirit of the masses are the moral foundations of socialist society, just as stupidity, egotism, and corruption are the moral foundations of capitalist society. All these socialist civic virtues, together with the knowledge and skills necessary to direct socialist enterprises, can be won by the mass of workers only through their own activity, their own experience. The socialization of society can be achieved only through tenacious, tireless struggle by the working mass along its entire front, on all points where labor and capital, people and bourgeois class rule, can see the whites of one another's eyes. The emancipation of the working class must be the work of the working class itself.
Subject Headings