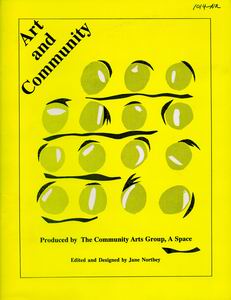 Art and Community

Northey,Jane (ed)
Publisher: A Space, Toronto, Canada
Year Published: 1987
Pages: 30pp Resource Type: Pamphlet
Cx Number: CX3270
Abstract:
This catalogue describes art and artists addressing community oriented issues, including "Unemployment Isn't Working", "The Hunger Table", and others. Art and Community was an exhibition which took place at A Space during the month of September 1985. Seventeen artists worked in many media and the exhibition initiated a public discussion about the practice of community art.
As well as having a page devoted to each artist and several pages of introduction, there are two resource pages at the back listing organizations affiliated with or involved in the exhibition.
A useful resource to anyone concerned with art as a social statement.