Other Voices: The Connexions Newsletter
October 14, 2023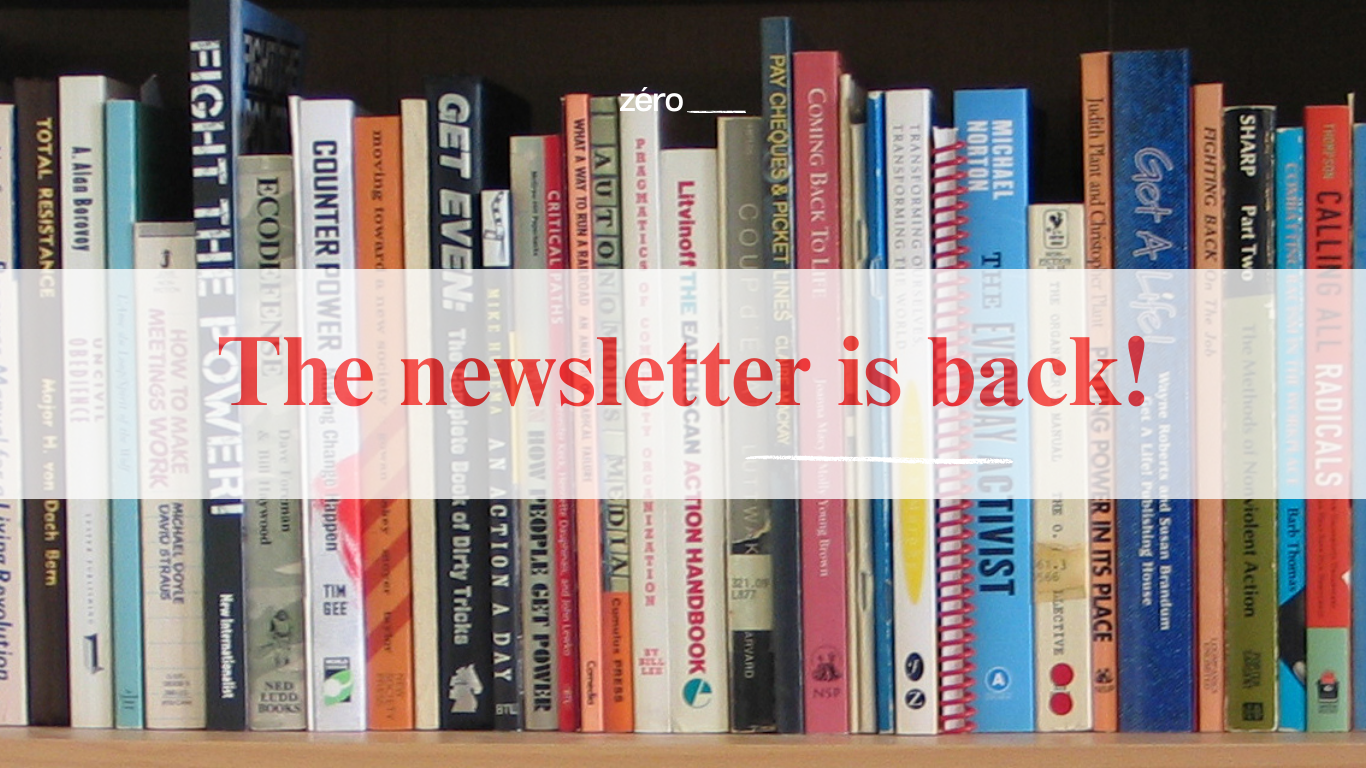 After the long gap since the appearance of the last issue of the Connexions newsletter, readers may well have concluded that Other Voices had faded to silence. Not so. We're back.
But fading to silence, as well as the more active and deliberate silencing of dissenting views, is in fact the theme of this issue.
The limits of permissible expression are shrinking dramatically. In the 'Western' world the illusions of liberal democracy and free speech still persist to a degree (albeit among a shrinking proportion of the population) thanks to the never-ending monologue of self-praise of the mass media and other institutions of narrative control.
A crucial element of maintaining the 'necessary illusions' of capitalist society, as Noam Chomsky and Edward Herman pointed out, consists of setting narrow boundaries for what can be discussed and then encouraging vigorous debate within those boundaries. We are free to argue about pronouns, bike lanes, and the future of the Toronto Maple Leafs; commentators in the elite media can even debate whether 'we' ought to escalate the war against Russia, or whether 'we' ought to concentrate our efforts on preparing for war with China.
For a brief historical moment, the evolution of the Internet provided a means for people outside the mainstream to reach a wider public. Those who hold power saw that as a threat, and took action to throttle those unruly alternative channels. The most important step was privatization: the early Internet, anarchic and anti-commercial, was quickly taken over by corporations. Alternative voices were increasingly pushed to the fringes.
Fringe or not, some of those voices managed to expose misdeeds that were supposed to remain hidden. Nothing is worse than the crime of telling the truth, and those who commit that crime are pursued with unlimited vindictiveness, as people like Chelsea Manning and Julian Assange learned. In American ruling circles, the debate about what to do about Assange was between those who wanted to lock him up for life, and those who wanted to assassinate him.
More widely used, and highly effective on a broad scale, is the use of algorithms to strangle unwelcome voices. The major social media and search platforms have become extremely adept at disappearing alternative points of view simply by adjusting their algorithms. Over the past number of years, left-wing websites have witnessed dramatic drops in the number of people who visit their sites as the articles they publish disappear from search engine results and social media.
This issue of Other Voices looks at how dissenting voices are being strangled. You will find several insightful articles below.
 

Connexions has a new home

 

The Connexions Archive has a new home. The building we were in, on the University of Toronto campus, is being torn down so a condo can rise in its place. Happily, we found a new space in Kimbourne Park United Church, near Danforth and Coxwell. We've signed a five-year lease, so we can look forward to celebrating Connexions' 50th anniversary there in 2025.

 

 

Your feedback is appreciated - and so are donations to keep us doing what we're doing! If you appreciate what Connexions does, please consider making a donation to support our work. You can donate by Interac e-transfer to connexions@connexions.org. Cheques are also welcome (mail to Connexions, 200 Wolverleigh Blvd, Toronto).
Getting the Word Out: we need you!
Connexions Archive is putting together an exhibit on the methods and technologies activists used to create and disseminate their messages before the computer era. The tentative title is "Getting the Word Out: the Media of Activism." The goal of the exhibit is to showcase highlights from the Connexions Archive from the 20th century, including posters, leaflets, newsletters, buttons, and musical records, and contextualize the ephemera with information about the technology used to create them — from manual typewriters to screen printers to small presses, and from Gestetners to button machines.
Do you have memories of your experiences in 'getting the word out?' For example, did you hand out newspapers at factory gates, or use phone trees to get people out on short notice? If so, we'd like record some of your recollections, in a phone or in-person interview. We would also be interested in physical objects or records related to your memories of producing these works and using these technologies. Should you have them available and be willing to lend or donate them to the Archive, contact us at 416-988-9586 or mailroom@connexions.org.
Censorship By Algorithm Does Far More Damage Than Conventional Censorship

Caitlin Johnstone says "far, far more consequential than overt censorship of individuals is censorship by algorithm. No individual being silenced does as much real-world damage to free expression and free thought as the way ideas and information which aren't authorized by the powerful are being actively hidden from public view, while material which serves the interests of the powerful is the first thing they see in their search results."

Keywords : Algorithms - Censorship/de facto

Is it already too late to say goodbye?

Jonathan Cook describes how algorithms are being used to prevent independent voices reaching their audiences. He writes: My blog posts once attracted tens of thousands of shares. Then, as the algorithms tightened, it became thousands. Now, as they throttle me further, shares can often be counted in the hundreds. "Going viral" is a distant memory."

Keywords : Alternative Media - Independent Media
On Being Disappeared

YouTube has arbitrarily removed the entire six-year archive of Chris Hedge's show 'On Contact.' This censorship, Hedges says, is about supporting what I.F Stone reminded us is what governments always do - lie. He goes on to say that "The most vocal cheerleaders for this censorship are the liberal class. Terrified of the enraged crowds of QAnon conspiracy theorists, Christian fascists, gun-toting militias, and cult-like Trump supporters that grew out of the distortions of neoliberalism, austerity, deindustrialization, and the collapse of social programs, they plead with the digital monopolies to make it all go away. They blame anyone but themselves."

Keywords : Censorship - Corporate Power

The Gaza Ghetto Uprising

David Rovics writes: From the Warsaw Ghetto uprising to the Gaza Ghetto uprising, the basic situation is the same: If half-starving people with no clean water or the ability to travel outside of their ghetto launch any kind of uprising, the obvious context is the fact that they were under siege, living in a walled ghetto, prevented from importing the things they need to survive and prevented from traveling. This is the obvious reason for any people living in such conditions to rise up against their occupying power. But instead, we are fed a narrative that begins with the ghetto uprising, without any explanation for the basic nature of the situation, that is, that an occupying army is forcing people to live and starve in a walled ghetto.
War, Peace and the Media

This fourth and greatly expanded edition of a work first published in 1983 questions the dominant narratives about militarism and war, and their relationship to global heating, as well as the role of the media in distorting and suppressing truths about their relationship. Contributors to this new edition of War, Peace and the Media challenge the U.S./NATO version of the Russia-Ukraine war and its historical causes, and highlight the role of mainstream and social media in sidelining or silencing dissenting information and opinions.
The obliteration of memories

Israel's bombings of Gaza destroy thousands of houses and damage thousands more. What is beyond being counting, is the scores of memories that were cultivated inside each of these homes. Each home tells a story and expresses a journey.
Copyright Connexions 2023. Contents are licensed under a Creative Commons Attribution Non-Commercial License. This means you are welcome to share and republish the contents of this newsletter as long as you credit Connexions, and as long as you don't charge for the content.

Other Voices: The Connexions Newsletter, is available online here.
This issue was edited by Ulli Diemer.
Connexions Archive & Library

Phone: 416-988-9586
Email: mailroom@connexions.org

www.connexions.org
Enjoy this issue of Other Voices? Want to share with friends and family? Then we encourage you to share this link.

All issues of Other Voices are available on the Connexions website here.