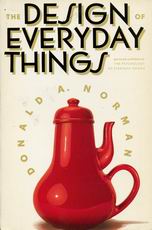 The Design of Everyday Things
Norman, Donald A.
Publisher: Doubleday
Year Published: 1988
ISBN: 0-385-26774-6
Library of Congress Number: TS171.4.N67 Dewey: 620.82
Resource Type: Book
Cx Number: CX8661
A book about the problems of design and how good design can overcome the frustrations of everyday things.
Abstract: The Design of Everyday Things outlines how everyday objects should meet the needs and capabilities of the consumers and customers who will purchase and use the products. Drawing on business and psychology, Norman argues that manufacturers must design products for both appearance and efficiency in order to have a competitive edge when selling products. Therefore, long user-manuals and warning labels reflect poor project design and a lack of understanding about the goals of the product. Norman discusses the fallacy of "human error" in the Preface when he claims that errors are caused by equipment and design failure and not the "mechanically inept" user. The problems raised in this book respond to a lack of understanding in business about the impact of product design upon customers. Due to the fluidity of borders in business, although this book provides specific examples from Europe and the US, the topics and products discussed have international relevance.
Divided into seven chapters, the first two examine the psychopathology of everyday objects and actions. Chapter three establishes the difference between knowledge in the head and knowledge in the world. As humans we can only hold information in our minds, thus knowledge must be extracted from our environments. This process is dependent on well designed products. Chapter four outlines how knowing what to do in order to operate a technical tool is based on the external clues within the product's design. If an object is poorly designed, one will have trouble figuring out how to use the device or tool. Accordingly, each tool or object possesses four types of constraints that inhibit the user from operating it: physical, semantic, cultural and logical constraints. Chapter five discusses human error and the idea of "slips" in speech, thought and action, which occur due to a lack of concentration and a simple confusion when multitasking. For example, when a person means to unbuckle her seat belt, she may accidentally unfasten her watch strap. The final chapter presents the advantages of Norman's concept of user centered design by providing practical tips to the manufacturer or designer. Finally, the author also includes a useful guide of suggested reading at the end of his book for the intrigued reader who wishes to further pursue an investigation on the design and the psychology of everyday items.
[Abstract by Amanpreet Dhami]
Table Of Contents
Preface to the Paperback Edition
Preface
ONE: The Psychopathology of Everyday Things
TWO: The Psychology of Everyday Actions
THREE: Knowledge in the Head and in the World
FOUR: Knowing What to Do
FIVE: To Err Is Human
SIX: The Design Challenge
SEVEN: User-Centered Design
Notes
Suggested Readings
References
Index
Subject Headings