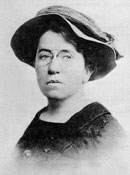 Anarchism: What It Really Stands For

Goldman, Emma
http://www.marxists.org/reference/archive/goldman/works/1910s/anarchism.htm
http://www.marxists.org/reference/archive/goldman/works/1910s/anarchism.htm
Publisher: Mother Earth Publishing Association
Year Published: 1910
Resource Type: Article
Cx Number: CX7220
Anarchsim: The philosophy of a new social order based on liberty unrestricted by man-made law; the theory that all forms of government rest on violence, and are therefore wrong and harmful, as well as unnecessary.
Abstract:
Excerpt:
Anarchism aims to strip labor of its deadening, dulling aspect, of its gloom and compulsion. It aims to make work an instrument of joy, of strength, of color, of real harmony, so that the poorest sort of a man should find in work both recreation and hope.
To achieve such an arrangement of life, government, with its unjust, arbitrary, repressive measures, must be done away with. At best it has but imposed one single mode of life upon all, without regard to individual and social variations and needs. In destroying government and statutory laws, Anarchism proposes to rescue the self-respect and independence of the individual from all restraint and invasion by authority. Only in freedom can man grow to his full stature. Only in freedom will he learn to think and move, and give the very best in him. Only in freedom will he realize the true force of the social bonds which knit men together, and which are the true foundation of a normal social life.
But what about human nature? Can it be changed? And if not, will it endure under Anarchism?
Poor human nature, what horrible crimes have been committed in thy name! Every fool, from king to policeman, from the flatheaded parson to the visionless dabbler in science, presumes to speak authoritatively of human nature. The greater the mental charlatan, the more definite his insistence on the wickedness and weaknesses of human nature. Yet, how can any one speak of it today, with every soul in a prison, with every heart fettered, wounded, and maimed?
...
Freedom, expansion, opportunity, and, above all, peace and repose, alone can teach us the real dominant factors of human nature and all its wonderful possibilities.
Anarchism, then, really stands for the liberation of the human mind from the dominion of religion; the liberation of the human body from the dominion of property; liberation from the shackles and restraint of government. Anarchism stands for a social order based on the free grouping of individuals for the purpose of producing real social wealth; an order that will guarantee to every human being free access to the earth and full enjoyment of the necessities of life, according to individual desires, tastes, and inclinations.
This is not a wild fancy or an aberration of the mind. It is the conclusion arrived at by hosts of intellectual men and women the world over; a conclusion resulting from the close and studious observation of the tendencies of modern society: individual liberty and economic equality, the twin forces for the birth of what is fine and true in man.
As to methods. Anarchism is not, as some may suppose, a theory of the future to be realized through divine inspiration. It is a living force in the affairs of our life, constantly creating new conditions. The methods of Anarchism therefore do not comprise an iron-clad program to be carried out under all circumstances. Methods must grow out of the economic needs of each place and clime, and of the intellectual and temperamental requirements of the individual.... Anarchism does not stand for military drill and uniformity; it does, however, stand for the spirit of revolt, in whatever form, against everything that hinders human growth. All Anarchists agree in that, as they also agree in their opposition to the political machinery as a means of bringing about the great social change.
Subject Headings