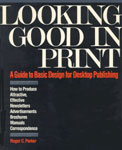 Looking Good In Print
A Guide to Basic Design for Desktop Publishing.
Parker, Roger C.
Publisher: Ventana Press
Year Published: 1988
Pages: 220pp Price: $23.96 ISBN: 0-940087-05-7
Book Type: Handbooks/Manuals
Resource Type: Book
Cx Number: CX3518
Abstract: Looking Good in Print covers its ground thoroughly. The author proceeds systematically, beginning with the elements of graphic design, moving through the visual forms of design such as margins, boxes, logos, typefaces, screens, and illustrations, and explaining the of the common design errors. The book is well-illustrated and contains many examples. It looks at advertisements, brochures, catalogues, flyers, newsletters, and magazines, explaining the characteristics and requirements of each, and showing to to create them. It is the kind of book one refers to repeatedly.
Subject Headings