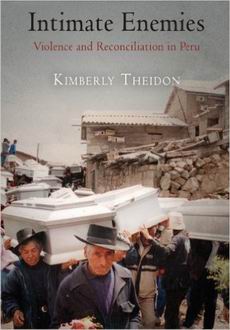 Intimate Enemies
Violence and Reconciliation in Peru
Theidon, Kimberly
Publisher: University of Pennsylvania Press
Year Published: 2013 First Published: 2012
Pages: 480pp ISBN: 978-0-8122-4450-2
Resource Type: Book
Cx Number: CX18189
Theidon explores how Peruvians are rebuilding both individual lives and collective existence following twenty years of armed conflict. A compilation of stories and dialogues of Peruvian peasants and Theidon's own experiences to encompass the broad and varied range of conciliatory practices.
Abstract:
-
Table of Contents
Preface: Ayacucho, 1997
Part I. The Difficult Time
1 "Ayacucho Is the Cradle"
2 Sensuous Psychologies
3 Being Human
4 Fluid Fundamentalisms
Part II. Common Sense, Gender, and War
5 Speaking of Silences
6 The Widows
Part III. Looking North
7 Intimate Enemies
8 The Micropolitics of Reconciliation
9 Deliverance
10 Legacies: Bad Luck, Angry Gods, and the Stranger
Part IV. Looking South
11 Living with "Those People"
12 Facing Up to the Past
Afterword
Notes
Glossary
Selected Bibliography
Index
Acknowledgments