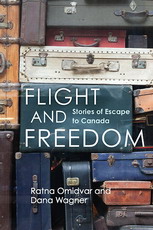 Flight and Freedom
Stories of Escape to Canada
Omidvar, Ratna & Wagner, Dana
Publisher: Between the Lines
Date Written: 01/09/2015
Year Published: 2015
Pages: 288pp ISBN: 9781771132299
Resource Type: Book
Cx Number: CX18036
Authors present a collection of thirty interviews with refugees, their descendants, or their loved ones to document their journeys of flight. The stories span two centuries of refugee experiences in Canada.
Abstract:
-
Table of Contents:
Preface, Ratna Omidvar
Acknowledgements
Abbreviations
Introduction: Alan Broadbent, Who Is a Refugee?
Chapter 1 Adeline Oliver, United States
Chapter 2 Mampre Shirinian, Ottoman Empire (Turkey)
Chapter 3 Loly Rico, El Salvador
Chapter 4 Ken (Khanh) Do, Vietnam
Chapter 5 Hodan Ali, Somalia
Chapter 6 Claudio Durán, Chile
Chapter 7 Rabbi Erwin Schild, Germany
Chapter 8 Randy Singh, Guyana
Chapter 9 Marguerite Nyandwi, Burundi
Chapter 10 Andrew Hidi, Hungary
Chapter 11 Sorpong Peou, Cambodia
Chapter 12 Tarun, Sri Lanka
Chapter 13 Yodit Negusse, Ethiopia
Chapter 14 Chai Bouphaphanh, Laos
Chapter 15 Zafar Iravan, Iran
Chapter 16 Samnang Eam, Cambodia
Chapter 17 Marko, Bosnia and Herzegovina
Chapter 18 Iren Hessami Koltermann, Iran
Chapter 19 Anwar Arkani, Myanmar
Chapter 20 Elvis, Namibia
Chapter 21 Humaira, Afghanistan
Chapter 22 Joseph, Sierra Leone
Chapter 23 Christine, Rwanda
Chapter 24 Mie Tha Lah, Myanmar
Chapter 25 Max Farber, Poland
Chapter 26 Shabnam, Afghanistan
Chapter 27 Robi Botos, Hungary
Chapter 28 Karim Teja, Uganda
Chapter 29 Avtar Sandhu, India
Chapter 30 Sabreen, Israel
Then and Now: Peter Showler, Would They Get In Today?
Subject Headings